Reliance Jio has opened its doors and Jio's 4G SIM cards are now available at retail outlets across India. Customers who sign up for data and voice will be free until December 31, 2016. Reliance Jio has unveiled a bunch of plans that will kick in post-December 31, 2016 and they have made voice calling and national roaming free for their customers. These plans have a lot of fineprint text attached and one needs to read to fully understand what Jio is actually offering.
Fine prints
For starters, effective from January 1, 2017 the voice-calling service is free but video calls you make on the network will be debited via your selected data-calling pack.   Subscription is free on the Jio apps, for now, but any data used during these apps will be cut from your regular data pack applicable at the time. This also includes video calls. Interestingly, these Jio apps won't work on non-Jio Networks, and you will need to be on Reliance Jio 4G to actually access these apps.
The free WiFi data benefit in your selected plans will only work through Reliance Jio public WiFi hotspots. A user needs to access and log-in on the Reliance Jio WiFi app to access these after you have located an actual WiFi hotspot.
 "Unlimited at Night", means data that is used between 2am and 5am. Any usage outside these timings, your regular data pack will apply.
Subscription is free for now on the Jio apps, but any data used during accessing these apps will be deducted from your regular data pack applicable at the time.
All local and STD video calls in the home and national roaming will be charged only for data usage. Whereas users will get 100 local and national SMS free per day in most prepaid plans.
Reliance Jio's prepaid packs with denominations Rs 19, Rs 129 and Rs 299 cannot be used as the first recharge by a new customer. Also the Rs 19 and Rs 129 data pack have a validity of only one day and seven days respectively, which is quite less.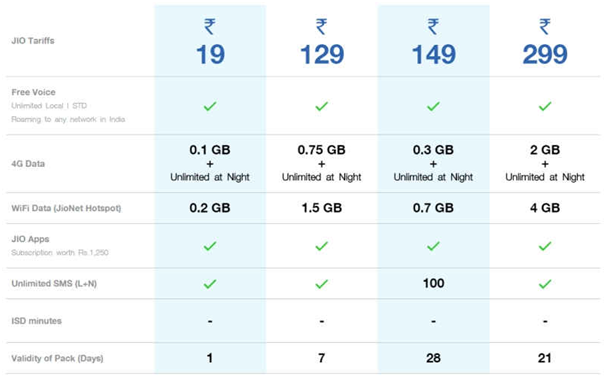 Reliance Jio will be offering 15% discount for postpaid users who opt for an auto-debit facility using credit/debit cards/online transfer. Students with valid ID will also get 25 percent additional 4G and WiFi data benefits.
Getting a Reliance Jio SIM card
Reliance Jio SIM cards are available from 5th Sept, process of getting one is simple.
But there is a massive queue at stores with everyone trying to get their hands on a Jio SIM card. We recommend you carry your Aadhaar Card for the eKYC process, it will simplify the activation process.