Time and again businesses experience that there is a need for a change to keep up with the evolving trends on the market and to survive in the race. Often such changes pose personal, entrepreneurial and financial challenges but most of the times it can be overcome and implemented conveniently and easily. Results are the most craved thing now in business, and it cannot be postponed for long. This is why a change in UX strategy is paramount.
You can take help of professional UX researchers, strategists and designers to ensure you and your business both are in the right direction. However, there are a few things to follow to ensure its precise implementation. The checklist includes specific features such as:
Self-realization and looking at things from different angles
Finding the right motivation
Creating a clear and crisp vision
Being honest and doing what you do the best
Living past the results already achieved and
Being patient to move forward.
When all of these are in the right place and at the right time, you will have faster growth in your business and at the same time provide the best user experience.
Consider a different perspective
You must view things from a different perspective to ensure proper and honest self-realization and acceptance of the situation that you are currently into. When you know and understand how you came to commit a mistake, you will stand a better chance not to repeat it.
Moreover, when you know what you are and what you can deliver, you will be able to design a more customer-centered philosophy. If you find that the current business model you follow is not up to mark and not very user-friendly, it is time to change so that the right value is provided to your customers. Proper questions, analysis of data and understanding the situation will surely provide better results and in turn a better user experience.
Reasons and motivation
You need to find whether you have the proper reason for what you are doing and what you want to do. You must be motivated to get your priorities straight so that you look good in the eyes of the customers. This will help you to make the lives of your customers better and change the way the whole corporate thinks. This will produce great products in the future and will help you to live up to their expectation and follow the customer-oriented legacy.
Have a clear vision
The next step is to know your what you want and have a clear vision. This is the basic element that will determine the direction of your business. Vision is a very powerful tool to observe user behavior and gather information so that you can make proper amendments that will turn your vision into reality.
This will help your business to revamp its identity with better user experience strategy. There will be no vague statements, contents and other elements that will deprive the users of a pleasant digital experience possible.
Working with a professional
There is a specific reason why you will find UX experts existing in the market. It is because they are the ones that have the experience of good and the bad both. They will help you to know where you stand exactly even if you believe that you are doing it all correctly. This will help you to avoid mistakes.
You will probably not know all the small details that will ensure a better UX strategy to make it most effective and ensure that there is no wasted time or efforts. Therefore, guidance is necessary to achieve your desired results.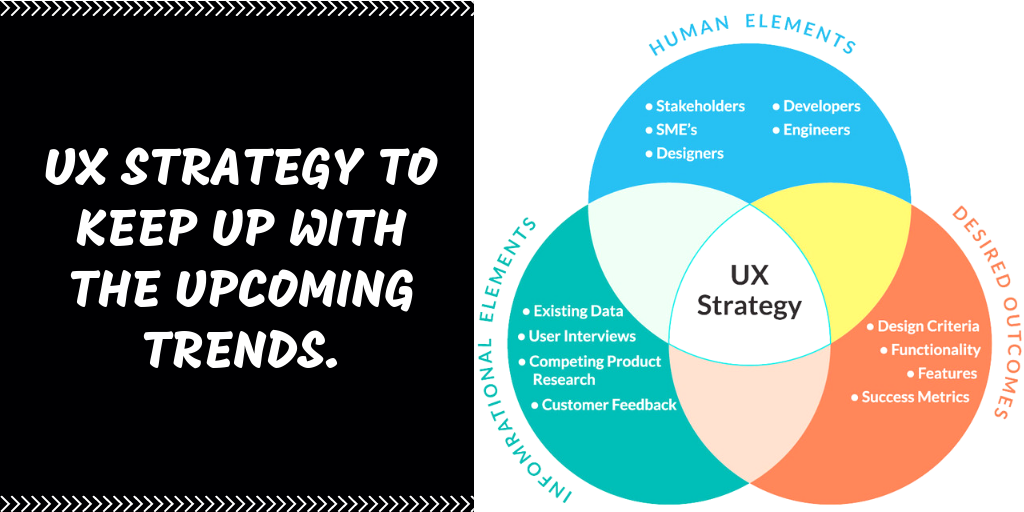 Be patient to have better results
You must give the trends enough time to prove their worth as it is common for a trend to come and go. A good one will stay for long, and you can implement them in your UX design so that it adds value. Time will ensure that you choose the right strategy and discard those that are nothing more than a digital equivalent of shoulder pads.
When you use the proper design trends, you will capitalize on the knowledge of the users but choosing the right one is essential as all UX trends are not created equal. Remember, everyone doing it may not mean it is suitable for you as well.
Do not copy bad design even if it has become a standard one across the web. Instead, remember and follow the fundamentals of UX principles. These are usually evergreen much unlike the trends. These principles are the foundation to provide a great user experience strategy and design. Empathizing with the user will never go out of style as human psychology is the basis of all basic assumptions of UX. Therefore, take time to understand these so that you can implement these to reflect the thoughts and acts of your users to create a powerful design.
Follow the learning curve to be more innovative, emphasizing and productive. This is required every time you incorporate a novel layout or a new feature in your design to make it a more familiar format.
Know about the advanced analytics to gain better insights and apply in your designs. There are different analytic platforms and a large number of metrics to ensure valuable insights and better focus on how to make the best use rather than who uses it.
You can gain access to and view the actions of your users when you use heat maps, session recorders and visual analytics in your design. Pay attention to the different patterns as well as intercept the problem areas to build a great UX.
Make sure that you know the point where your users actually get lost or become frustrated and give up. This will give you an edge while implementing a solution.
Lastly, make sure that you test the usability with the users as they have the last word. This will enable you to get the necessary feedbacks and consider implementing these in your designing process to ensure that your product provides a great user experience. Conduct different sessions with the users' in-person to observe the body language and follow it up with questions.
Author bio-
Kristen Smith is a Professional writer. She has written many articles on web designing. She is quite experienced in the field of web marketing as well as website designing. This article will help your business to revamp its identity with better user experience strategy.