Recently, Google launched Android Messages for the web to give Android Users access to their SMS chats through a web browser. This feature also allows them to send and receive messages on their web browser. A lot of people are wondering if this is similar to iMessage and WhatsApp. Let's find out what the real deal about Android Messages really is.
Android Messages on Web Browser
Android Messages feature works just like the WhatsApp web client and not like your regular Facebook Messenger. You cannot use this feature on multiple computers at the same time and you also cannot use this feature if your smartphone has no connection. This feature is live for everyone and all you need to do is head the Android Messages portal and use the QR code presented there. You need to tap the menu button in the Android Messages app and choose the option that says 'Messages for Web'. Here you need to scan the QR code and then immediately point your smartphone's camera at your web browser. That's it! You're now on the web client of the Android Messages feature.
Android Messages VS All of Google's Other Chat Applications
Google Hangouts has the added feature of MMS and SMS support on Android and works well with iOS and inside Gmail, web browsers and the likes. Since it makes life too convenient for their users, Google is now pushing Hangouts towards business users instead of their regular base of average consumers. Allo was a pretty good replacement for Google Hangouts but these days, no one really uses it. It didn't support SMS which is why no one really bothered to download it. The new Google Chat which Android Messages is a part of is an enhanced SMS service and not the average instant messenger.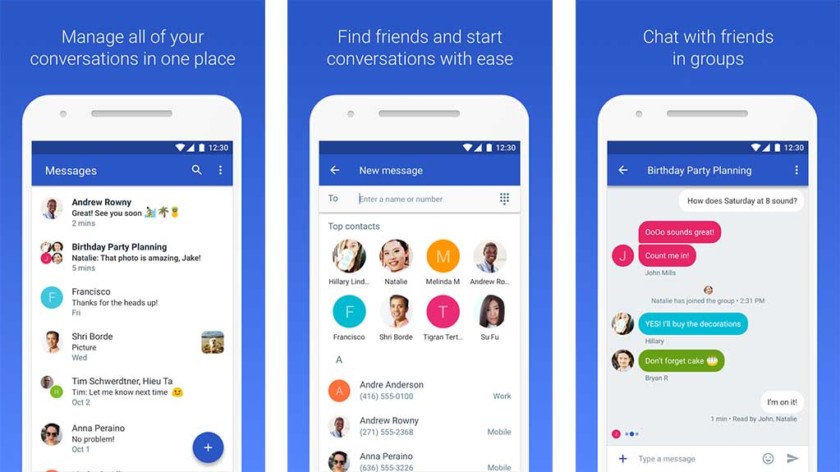 Google is planning to merge some of the best features of instant messaging with the SMS's core functionality. Complete with group chats, read receipts, excellent support high-resolution videos, and images, etc. The technical terminology for this is RCS – Rich Communication Services and this is what Android Messages is laying down the foundation for.
Android Messages VS iMessage
This is an inbuilt message application that only Apple users have access to. There are a lot of fun features that the users can use in iMessage right from location sharing to text effects, iCloud backups and a bunch of smaller mini-apps within this. The only problem with iMessage is that it doesn't have a web interface which doesn't really bother the average Apply user. But Google isn't going after these people. Google is aiming at the 'over the top' (OTT) app users who prefer Facebook Messenger and WhatsApp so that they can compete with those apps. This means that Android Messages is not a threat to the Apple iMessage feature at all. Google cannot get its own client on Apple's iOS how it managed to do with Hangouts simply because Apple will never let another app take over their default messaging duties.